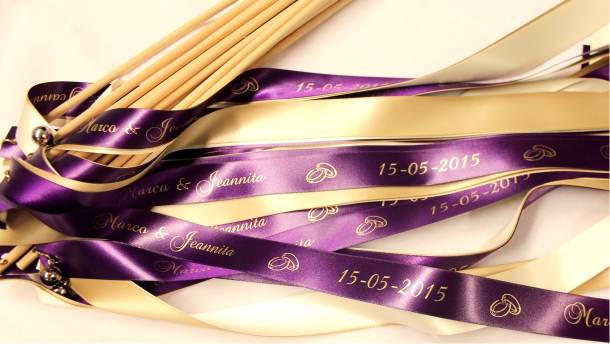 Ribbon sticks
Ribbon sticks are a trend which started in the United States. On special occasions when you are not allowed to throw rice, you can use our ribbon stick. Ideal and charming to look at.Order now on our product page. Available in many different colours (you can compose them yourself) with a small bell, lace or print to suit your theme.
Bottles
A recent addition to our range is bottles. You can design your own ribbon on our create page and order the bottles on the article page. The bottles are great to fill with small trinkets together with the ribbon, or you can put a little note in the bottle and present it as a "message in a bottle". The possibilities are endless.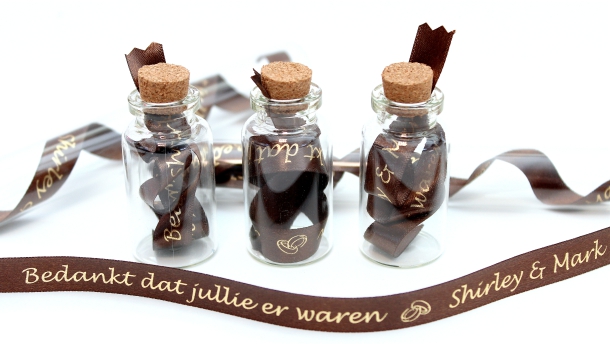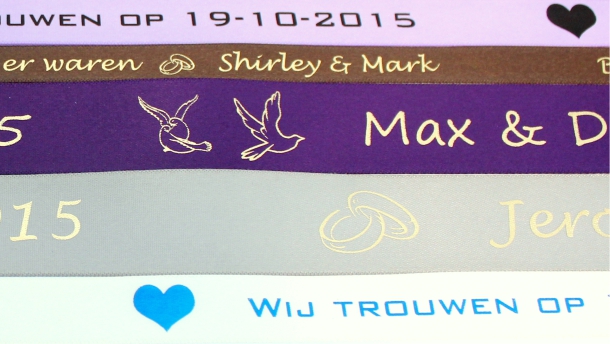 Printed ribbon
You can design your own printed ribbon on our create page. You can add a detailed logo and take your pick from a wide variety of fonts. It is also possible to use your own logo or font
Satin ribbon
With our satin ribbon you can add colour variations to almost everything. Use it at dinner, on a stick, to decorate a staircase or a chair. The colours create a great atmosphere and add cheer. You can easily order the unprinted ribbon by clicking here.